April 2016
Dear Friend,
I am pleased to send you the latest edition of my electronic newsletter. These e-newsletters enable me to provide information about issues, events and activities in Harrisburg and around the 50th Senatorial District to you in a timely manner.
If you find this e-newsletter useful, I invite you to visit my website www.senatorbrooks.com for more information about your state government. If you do not wish to receive these e-newsletters, please click the "unsubscribe" button at the bottom of the page. If you would like to contact my office, please go to my web page and click on the "contact button."
Sincerely,
Michele
Westminster University Students Visit Capitol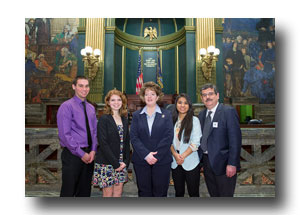 I was happy to have the opportunity to visit with students, Jimmy Newman, Ellen DeWeese, Don Luna and Professor Ed Cohen from Westminster College to discuss important issues such as education.
Senate Passes Bills to Support Military and Veterans
I am pleased to report that the Senate has passed several bills over the past few weeks intended to support Pennsylvania's veterans and active duty military personnel.
On March 23, the Senate adopted Senate Resolution 316, a measure I was privileged to co-sponsor proclaiming March 30, 2016, as "Welcome Home Vietnam Veterans Day" in Pennsylvania.
Forty-three years have passed since America's involvement in Southeast Asia ended and yet that conflict continues to impact our society. Just saying the word Vietnam invokes feelings and emotions for anyone who lived through that turbulent era. While statues, parades and honors were bestowed upon those who served in World War I and World War II, that wasn't the case for the veterans who served in the jungles of Southeast Asia. They came home to a divided nation and received little gratitude, and in some cases outright animosity, as a reward for their service and sacrifice.
More than 304,000 American service members were wounded in Vietnam and of the 58,193 service members who lost their lives, 3,144 were from the Commonwealth of Pennsylvania. March 29th was the date that the last of our U.S. troops left Vietnam in 1973. As such, the resolution is marked March 30 th as the date to commemorate their return home.
Therefore, it was appropriate that the Pennsylvania Senate paid tribute on that day to the unsung heroes of the Vietnam War. Let us offer a special prayer of gratitude to those men and women who served in Southeast Asia and never forget those whose dreams were left unfulfilled.
Senate Bill 847, which I co-sponsored, adds a representative from the Korean War Veterans Association to the State Veterans Commission, a panel comprised of representatives from Pennsylvania's major veterans associations. The Korean War is often referred to as the 'Forgotten War,' as it was wedged between World War II and the Vietnam War. We should not forget Korean War veterans, who continue to organize and serve their fellow veterans. The bill is now before the House Veterans Affairs & Emergency Preparedness Committee for consideration.
On March 17, The Senate approved a bill that would let Pennsylvania employers adopt and use a veterans' preference employment policy. Senate Bill 1013 would exempt employers with a written veterans' employment policy from violations of state and local equal employment opportunities law. Legislation allowing veterans' preference has been signed into law in a number of states including: California, Florida, Georgia, Kentucky and Oklahoma. The bill is now before the House Veterans Affairs & Emergency Preparedness Committee for consideration.
On April 12, we passed Senate Bill 1155, a bill I co-sponsored that establishes a special vehicle license plate for active members of the United States armed forces adding special recognition for active members of the military, reserves, and Pennsylvania National Guard. This would be an addition to the currently available license plates with special recognition for World War II veterans, Purple Heart recipients and Operation Iraqi Freedom veterans.
Meeting with the Pennsylvania Farm Bureau
I joined with other legislators from Northwest Pennsylvania to meet with local farmers during the Pennsylvania Farm Bureau's Legislative Day in Harrisburg. This was a chance to discuss their thoughts on a number of important issues, from overbearing regulations to a fiscally sound budget. Thank you to all of our farmers for the endless hours of hard work and the dedication you have to providing food for our families.
Senate Approves Bill to Help Families Provide for Special Care
I am pleased to report that the Senate approved an important measure to help families with situations that call for special care.
On April 12, the Senate approved House Bill 1319, which establishes the Pennsylvania ABLE Savings Program Tax Exemption Act. The act is companion legislation to legislation that would establish the ABLE Act Savings Program in the Treasury Department to encourage eligible individuals with disabilities to save private funds from which the expenses related to their disabilities may be paid. The bill now returns to the House for concurrence on Senate amendments.
The bill is intended to ease the financial stresses faced by individuals with disabilities by creating a tax-free ABLE savings account in the Commonwealth that can be used for qualified expenses such as education, housing and transportation. The ABLE account will supplement, not replace, benefits provided to individuals with disabilities and provide a way for their families to prepare for their long term care.
Offices
Senate Box 203050
Harrisburg, PA 17120-3050
(717) 787-1322
FAX (717) 772-0577
TTY (800) 364-1581
Greenville Office
100 Hadley Road
Suite 9
Greenville, PA 16125
(724) 588-8911
FAX (724) 588-5464
Meadville Office
16678 McMath Avenue
Meadville, PA 16335
(814) 337-8132
FAX (814) 337-5055
Edinboro Office
99 Erie Street, Suite 1
Edinboro, PA 16412
(814) 734-2783
FAX (814) 734-2789